Articles
Naveen Varadarajan heads as President for US India Investors forum.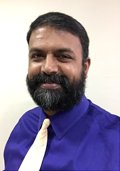 As a dynamic professional who does not follow traditional paths, Naveen started as an Entrepreneur at a very young age. After couple of stints for about 8+ years in the Distribution Logistics and Consulting domains, his last assignment was Managing Director at Maintec Technologies Pvt Ltd.,(www.maintec.com) where he spent 16+ years successfully taking the organization to new heights including Core Vendor ship at IBM Global Services apart from several other milestones during his illustrious career. In August 2013, he founded Insatiable Technologies and subsequently decided to merge it with BOB Tech Solutions Pvt Ltd., (https://www.bobtechsolutions.com/) to provide inorganic growth by consolidating service offerings, leveraging management resources and enhancing client centric initiatives which would translate into exponential growth for the merged entity. He currently is Chairman of the Insatiable Group (https://www.insatiablegroup.com/index.html) and Director & CEO of BOB Tech Solutions with staff strength of over 350+ professionals and operations in Bangalore, USA, South Africa and scheduled commencement in Dubai and Canada.
A person with good analytical mind, Naveen recently saw value in few concept driven companies and invested in Start-ups, Last Minute Keys, Mera Auction and LincSphere.
Naveen is keen on promoting Social Innovation programs and has recently acquired major stake in BAGMASTER – A company promoting innovative low cost Paper Bags Manufacturing Machines and products with the aim of creating jobs along with regular earning for the rural women in India.As Co-Founder Naveen drives the Strategies in First and Second round funding.
He also is the President of US India Investors Forum (usiif.in) a not for profit entity (Section 25) and has been formed with the support of the US Consulate and US Commercial Service.
Naveen is a sports lover with business interests in the Fitness domain (SNAP Fitness) and is a Board Trustee at BRAHMI (www.brahmi.org) a nonprofit, humanitarian organization dedicated to the education of disadvantaged children in India which is very close to his heart.